Things we recommend at Amazon
This page lists software and music that we can personally recommend from the Amazon site.
Music


...and the Native Hipsters
The Associates


DVDs


Thunderbirds
Babylon 5 universe
West Wing


Holiday Books about Scotland
Computer related products


Microsoft Windows XP
Kernigan and Ritchie
Palm m125 PDA

---
Music
...and the Native Hipsters
One of the most original bands ever to come out of post-punk era in the UK (itself one of the more original eras). If you've heard "There goes Concorde again" then you'll love this. If you haven't, then this is a tough one to describe.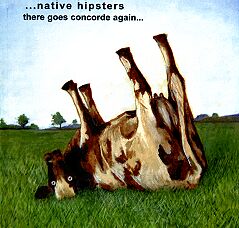 If you click on the image to the left, then you can visit for a (over-long) review by yours truly, as well as reviews by Amazon (and maybe others). More reviews are available on the band's web site www.nativehipsters.co.uk
You can, of course, buy the CD from Amazon, but I'd like to recommend that instead you do the band a favour and buy direct from their website at www.nativehipsters.co.uk. The CD is cheaper there, and they don't have to pay Amazon a cut.
You should visit their web site in any case, as it contains interesting histories of the band, pictures and offers of other Hipsters merchandise. Since this stuff has been rarer than hen's teeth until now, this new bout of activity is to be fully supported. Long may it last!

---
The Associates
The superb 80's pop band. Wonderful music, sadly underrated, sadly missed. There's a great fan site at www.billymackenzie.com, and an active mailing list at www.yahoogroups.com
4th drawer down

The Affectionate Punch
(original version)

Sulk

Double hipness

---
DVDs
Thunderbirds
| | | |
| --- | --- | --- |
| Region 2 (UK) 9-disk digistack | | Region 1 (USA) 12-disk megaset |
All the episodes!!! The USA version includes the 2 movies, which are available on a separate "Collecters" disk in the UK.
Babylon 5 universe

Region 2 (UK) 46-disc megabox
The entire babylon 5 universe - 5 series, 1 spin-off series (Crusade) and 6 TV movies.
46 discs and more hours of quality sci-fi than I can count on all my digits even if i were to break them into small pieces!!
All in a pretty box.
West Wing
All these DVDs are Region 2 (UK) disks

Series 1

Series 2

Series 3

Series 4

Series 5

Series 6
One of the most intelligent series ever to grace the TV screens. It probably peaked with the superb 3-episode finale to series 4, but still a damn fine show.
---
Holiday Books about Scotland
These books will help you plan your visit to Scotland.
The Scotland guide - by Dan McQuillan (cost approx £11, dispatch within 2-3 days at time or writing)
The Lonely Planet. The famous set of guide books for the discerning traveller. (cost approx £13, dispatch within 2-3 days at time or writing)
Scotland the Best - the true bed and breakfast book by Peter Irvine. (cost approx £8, dispatch within 24 hours at time or writing)
Scotland published by Cadogan and written by Richenda Miers. (cost approx £10, delivery 1-2 weeks at time of writing)
Footprint Scotland handbook published by Footprint and written by Alan Murphy. (cost approx £9, delivery 2-3 days at time of writing)
---
Computer related products
Microsoft Windows XP
The latest and greatest Microsoft OS.
| | |
| --- | --- |
| Home upgrade | Professional upgrade |
Kernigan and Ritchie
The classic 'C' programming book.
The C programming language The classic text from Kernigan and Ritchie
Palm m125 PDA
Personal organizer
- 8 MB memory
- expansion slot
- USB HotSync cradle
- Comes with add-on software
- Compatible with Windows and Mac
---